All of a sudden I find myself thinking, "whoa, it's Easter weekend already!", just like the sneaky Easter bunny, Easter just kind of snuck up.  As if I didn't notice the plethora of eggs and bunnies and other Easter items, but it still snuck up. It's like Easter Eve and I am totally not ready!!
So, let's get crafting…
First off I'd like to share The Peg Bunnies Tutorial found on the Here She Goes Again blog.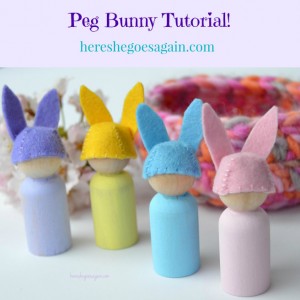 Are they not the cutest little bunnies? I love the 4 spring/Easter colours. If you haven't had a chance to make some little peg people (or bunnies), give it a whirl, they are tons of fun. And…luckily I am surrounded by over 100 colours of wool felt plus wood pegs to make them with, thanks to my supplies business Bear Dance Crafts. *whew* I can do this!! With the template on the Here She Goes Again blog, I am a happy bunny, er, I mean gal…
If bunnies are not your thing, but you're looking for something fun for spring (honest, I wasn't going for a rhyme!) then I highly recommend the Princess Fairy Tutorial by Brambles & Blossoms doll maker on her Faith and String blog. Make these little fairies in spring tones for a wonderful spring gift, or something different for the Easter celebration.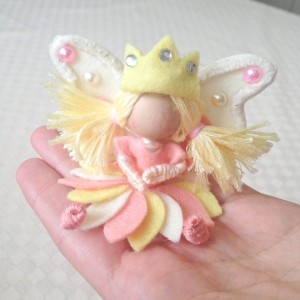 Again, I am happy I have supplies on-hand for these sweet fairies too! If you don't have supplies, there are some supply recommendations on the blog post, so go check it out with the above link.
There are more great tutorials from these wonderful crafty ladies on their blogs. I'll also be adding the blogs to my blogroll… not tonight, I NEED to go do some crafting right now!!

Happy Easter 🙂